Reverse ACH
A Reverse ACH transaction serves as a refund for a Simple ACH transaction. An ACH transaction can only be processed if a merchant is set up with an ACH processor. To process a Reverse ACH, click 'Transactions' on the side menu bar then select 'Reverse ACH' from the drop down menu.
Enter Payment Information
Enter the Amount to be refunded, Name on Check, their Routing Number, and Account Number. The Check Number, License ID, State, the ACH Format, and the Account Type fields are all optional.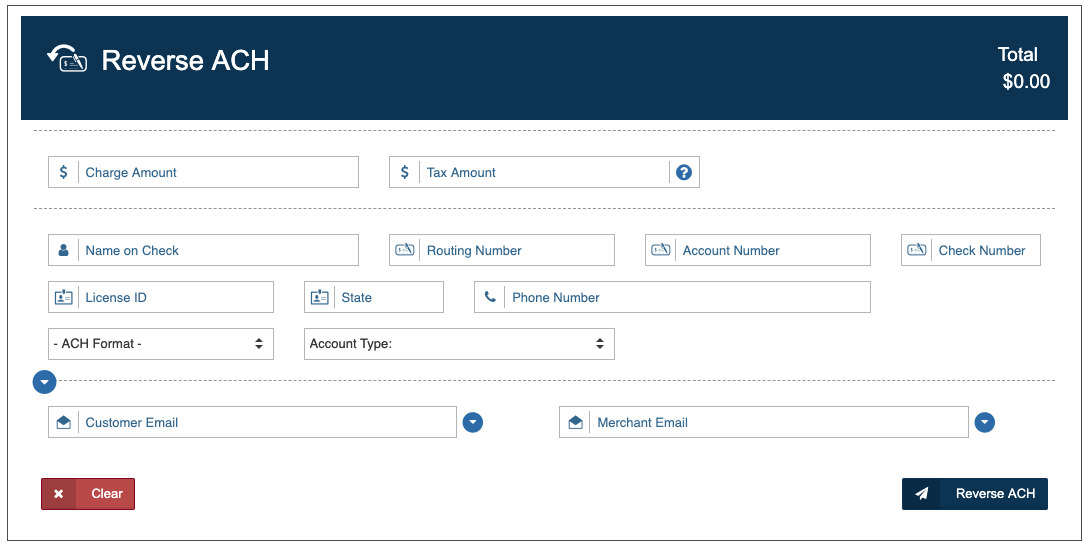 To reveal additional fields (Company Name, Customer ID #, Invoice #, PO #, Order ID, and Description), click the drop down arrow on the top left side of the 'Customer Email' field.
To email the receipt to your customer, enter the customer's email in the 'Customer Email' field.
 To send a report of the transaction to your own email, enter your email in the 'Merchant Email' field.
Result
Once all desired fields have been entered, click 'Reverse ACH'. A pop up window will appear with one of the three responses: 'Transaction Approved', 'Transaction Declined' or 'Error'.