Decline Rates

This report can be found under 'Reports' in the sidebar, then in 'Decline Rates' in the dropdown.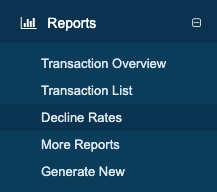 This report breaks down the percentage of credit card declines by the decline reason. These reasons are split into two categories: Issuer/Platform Declines and Gateway/Other Declines. This report displays both the count and percentage in each field listed below.
Field
Description
Non-Recurring
All declined transactions in the given period that come through the gateway that are not Recurring. This would include transactions made via Quick Sale in the Customer Database.
Recurring
All declined Recurring transactions in the given period that are run through the Customer Database from a schedule.
Total
The total declined transactions in the given period.
Unique
This lists all the unique cards that are among the declined transactions.

For example: There is a total of 20 declines and 15 of those declines came from one card and the rest have a different card each. There would then be 6 unique cards among those 20 declines.
Date Picker
The date picker allows you to set the time range of your report. By default, when you open the report, it will show decline rates from the last 30 days up to today's date.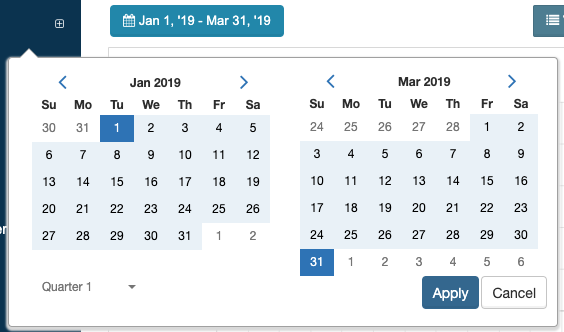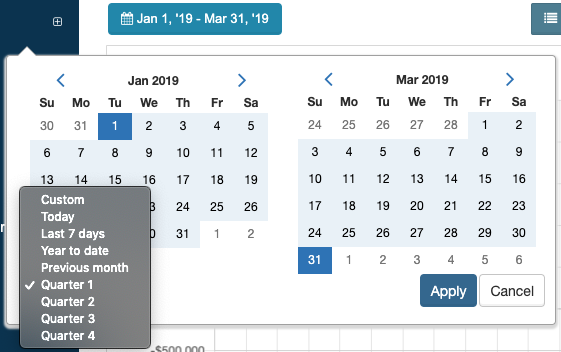 To change the range, simply click on the calendar button that shows the current range. You will then see 2 calendars, the left one is the start of the range and the right one is the end of the range.
To create a custom range, use the arrows above each calendar to change the months one by one or click the month's name to view a dropdown of other months to select. After you have selected the month, then select a day in that month.
To create a pre-made date range, click the arrow below the left calendar and then select the range you would like to use. Your selection will be reflected in the calendars. Below is a list of all the pre-made date ranges.
Once you are done, click the "Apply" button to use that range or click "Cancel" to cancel.
| Range | Description |
| --- | --- |
| Custom | This will display when a custom date range is selected |
| Today | Will show decline rates for todays date only |
| Last 7 Days | Will show decline rates for the last 7 days including todays date |
| Year to Date | Will show decline rates from the beginning of this year to todays date |
| Previous Month | Will show decline rates from the last month |
| Quarter 1 | Will show decline rates from January to March. If you select the quarter you are currently in, the range will show last year's quarter. |
| Quarter 2 | Will show decline rates from April to June. If you select the quarter you are currently in, the range will show last year's quarter. |
| Quarter 3 | Will show decline rates from July to September. If you select the quarter you are currently in, the range will show last year's quarter. |
| Quarter 4 | Will show decline rates from October to December. If you select the quarter you are currently in, the range will show last year's quarter. |